- Wellness partner of your holidays -
Massages, Wellbeing & Relaxation
- A Zen atmosphere, a well-being cocoon -

At the heart of the Cap Balnéo aquatic area, the Cap Détente Lounge welcomes you in a warm atmosphere conducive to relaxation and relaxation (decoration, scents ...).

- Take care of yourself & relax -

Based on different techniques to give your body exactly what it needs : whatever the type of massage, touch, kneading, vibration, percussion and stretching, relaxation is at the appointment.
One of the strong points, besides the setting and the proximity of the Balnéo center, is the personalization of the massages according to your health, your objectives, your wishes. You will be massaged with more or less intensity according to your preferences.
The awakening of the senses, the sensation of oil on the skin, the soothing atmosphere, visual, olfactory, musical and the wealth of care will make this experience an extraordinary opportunity to get back in touch with you and to get well- be.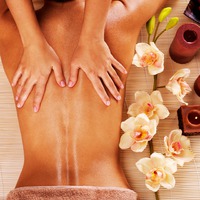 Téva, Certified and Recognized Practitioner
Certified Spa and Well-Being, approved by the French

Federation of Massage and massage teacher


I give you an appointment for privileged moments of serenity. A massage is a meeting of movements, sensations and feelings. We are all different, so the massage must be adapted to the person who receives it, according to his needs and expectations. Dialogue is fundamental, I am listening to you.